humourous stories
Blond Cops
A Policeman was drilling 3 blondes, who were training to become detectives. To test their skills in recognizing a suspect, he shows the 1st blonde a picture for 5 seconds and then hides it. "This is your suspect, how would you recognize him?" The first blonde answers " That's easy, we'll catch him fast because he only has one eye" The policeman says "Well. Uh.. that's because the picture shows his profile" Slightly flustered by this ridiculous response, he flashes the picture for 5 seconds at the second blonde and asked her "This is your suspect, how would you recognize him?" The second blonde giggles, flips her hair and says "Ha! He'd be easy to catch because he only has one ear!" The policeman angrily responds, "What's the matter with you two? Of course only one eye and ear are showing because it's a picture of his profile! Is that the best answer you can come up with?" Extremely frustrated at this point, he shows the picture to the third blonde and in a very testy voice asks "This is your suspect, how would you recognize him?" He adds quickly ". think hard before giving a stupid answer" The Blonde looks at the picture intently for a moment and says "HMMMM. the suspect is wearing contact lenses." The policeman is surprised and speechless, because he really doesn't know himself if the suspect wears contacts or not. "Well, that is a good answer.. wait here for a few minutes while I check his file, and I'll get back to you on that" He leaves the room and goes to his office, checks the suspect's file in his computer and comes back with a beaming smile on his face. "WoW! I can't believe it. it's TRUE! The suspect does in fact wear contacts lenses. Good work! How were you able to make such an astute observation?" "That's easy" the blonde replied. "He can't wear glasses because he only has one eye and one ear!"
Some Things You Just Can't Explain
A farmer was sitting in the neighborhood bar getting drunk. A man came in and asked the farmer, "Hey, why are you sitting here on this beautiful day, getting drunk?" The farmer shook his head and replied, "Some things you just can't explain."
"So what happened that's so horrible?" the man asked as he sat down next to the farmer.
"Well," the farmer said, "today I was sitting by my cow, milking her. Just as I got the bucket full, she lifted her left leg and kicked over the bucket."
"Okay," said the man, "but that's not so bad." "Some things you just can't explain," the farmer replied. "So what happened then?" the man asked. The farmer said, "I took her left leg and tied it to the post on the left."
"And then?"
"Well, I sat back down and continued to milk her. Just as I got the bucket full, she took her right leg and kicked over the bucket."
The man laughed and said, "Again?" The farmer replied, "Some things you just can't explain." "So, what did you do then?" the man asked.
"I took her right leg this time and tied it to the post on the right."
"And then?"
"Well, I sat back down and began milking her again. Just as I got the bucket full, the stupid cow knocked over the bucket with her tail."
"Hmmm," the man said and nodded his head. "Some things you just can't explain," the farmer said.
"So, what did you do?" the man asked.
"Well," the farmer said, "I didn't have anymore rope, so I took off my belt and tied her tail to the rafter. In that moment, my pants fell down and my wife walked in . Some things you just can't explain."

Get rid of that robot!
That's a lady who knows how to make a bet!

At his first stop, there was this very overweight little girl. He opened the door and said,
" Hi, I'm the new bus driver. What is your name?" The girl said that her name was Pattie.
I have always preferred the story over the one-liner; not only are they funnier
but they last longer. For a salesman that is important. I have won over many
customers with my story-telling skills, but in fact you probably don't care.
But you're here, so that means you care about winning over some "customers"
of your own, so on wit' da show!

I'll never forget the outburst that followed when I said "wow it's so beautiful, and it's even a full sun!"
Now for whatever reason, I was swinging my arms around in a wild half-windmill motion. Don't ask me why, I was just filled with child-like glee I guess. So there I was, swinging my arms dramatically, then just when I got to the corner…

Top 20 Most Funny Stories of all Time #Funny #Stories
Top 20 Most Funny Stories of all Time #Funny #Stories

This is a collection of intelligent jokes and some funny stories for children and so-called grown-ups. This is a colorful potpourri collected over the years. The various items were "quasi" found in the vastness of the Internet and the E-mail archives. However, the greatest care was taken to admit only high-quality gems into this illustrious club – from the top shelf – so to speak. Even though there are countless websites of this kind on the net, most of them display either a not filtered bulk or have a disturbing distance from the good taste. Regarding the assessment of the quality, mis-interpretation is difficult to avoid, and there will be deviating opinions.
During the heat of the space race in the 1960's, NASA quickly discovered that ballpoint pens would not work in the zero gravity confines of its space capsules. After considerable research and development, the Astronaut Pen was developed at a cost of $1 million. The pen worked in zero gravity, upside down, underwater, on almost any surface including glass and also enjoyed some modest success as a novelty item back here on earth.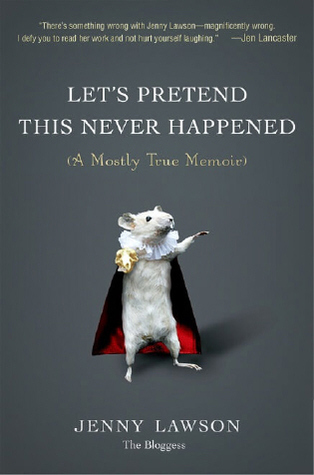 The story is an entertaining description of his disappointment and also relates to the American tradition and a rite of growing up.
LET'S PRETEND THAT THIS NEVER HAPPENED: A MOSTLY TRUE MEMOIR by JENNY LAWSON

The new busboy was just 16, and because it was his first job, we were all impressed with how well he had done on his first day. Which is why…
My job as a facilities maintenance engineer required a wide range of skills. One day I might have to fix the furnace, while the next day could see me painting…

"You went through my wallet?"
The world is looking for a man of devotion and commitment. Be committed to what you are expected to do, and go one step forward to do some extra work to become more successful in your life.
The one thing that drove me absolutely crazy about my boyfriend Bill was the way he drove. He would insist on driving in the dead center of a two way intersection, and no matter how much I complained, sulked, and threatened, nothing made a dent. The only consolation I found was the thought that at least the cars coming towards us, were staying in their lane. Sure enough, I soon resigned myself to my fate, but I would still cringe all too often while on the road.
On the day of my big job interview I woke up late. Frantically I threw on a suit. "OH NO!" I thought. "MY TIE! My Dad was out of town and wasn't there to help me, and for the life of me I did not know how to tie a tie!
Resources:
http://thefunnybeaver.com/15-really-funny-short-stories/
http://www.lifesmith.com/jbhumor1.html
http://thoughtcatalog.com/january-nelson/2018/06/funny-stories/
http://quotesnhumor.com/top-20-most-funny-stories-of-all-time/
http://www.smart-jokes.org/funny-stories.html
http://www.toppr.com/bytes/a-list-of-short-humorous-stories-for-class-10/
http://www.rd.com/jokes/funny-stories/
http://www.phdstudytips.com/humorous-stories-english/
http://www.greatcleanjokes.com/jokes/other-joke-types/funny-stories/
http://thefunnybeaver.com/15-really-funny-short-stories/